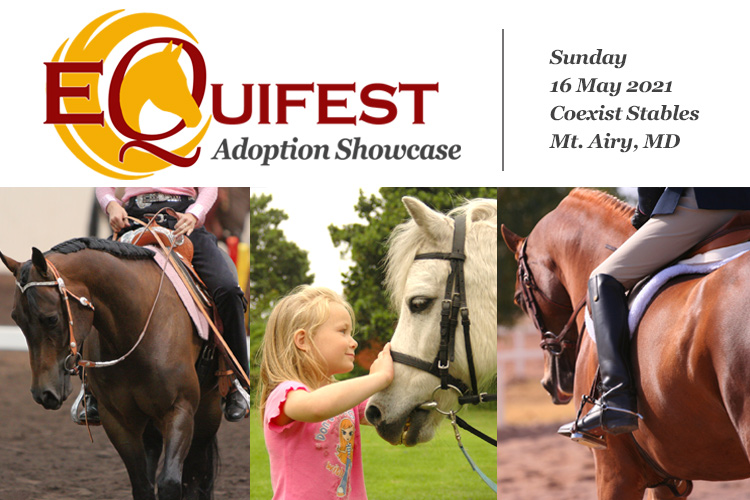 EquiFest 2021
Is your new horse waiting for you at a Maryland Rescue?
Find them at EquiFest Adoption Showcase – May 16, 2021!
What is EquiFest?
A horse show and adoption showcase entirely for adoptable horses, trained and presented by Maryland rescues. EquiFest's classes and activities will be broadcast on YouTube.
EquiFest's Mission
To create an event that highlights the beauty, variety, athleticism, and training of Maryland's rescue horses and introduce them to potential adopters.
Rescued horses are often less valued as potential mounts and companions than other horses;
EquiFest is here to bust that myth!
Where & When is EquiFest?
Sunday, May 16, 2021 at Coexist Stables, Mount Airy, MD
Due to COVID, we will broadcast the event online and may limit attendees to participants and potential adopters who register in advance. EquiFest will follow United States Equestrian Federation rules for spectators at the show. Watch this page for updates.
Sponsors?
Want to support a unique event with a national audience? Contact us at equifestsponsors@mdfundforhorses.org.

EquiFest Gallery
The EquiFest Horse Gallery is now online! Look for your new best friend in the gallery!
Come to EquiFest!
Tickets Now On Sale!
Adult tickets purchased in advance: $5
Children under 12: $2
Adults on Day of Show: $8

Social distancing and masking in close proximity to others recommended. Attendees agree to follow COVID guidance in line with Maryland rules for outdoor activities. Our event insurer may require attendees to sign a liability waiver.
Maryland Rescues –
It's not too late to join us!
If you're interested in joining the fun, contact us right away at equifest2021@mdfundforhorses.org.
This sounds AWESOME! How can I learn more?
Watch this page for updates, show details, and previews of adoptable EquiFest competitors
Organized by:
Maryland Fund For Horses
Hosted by Coexist Stables, Mount Airy, MD
EquiFest Steering Committee